Community Board
Our Community Board is differentiated and has many exclusive functionalities such as general server information, special settings, Auction House, Clan management and various types of rankings. Use the ALT + B command to access it in-game, or open it by the "System menu"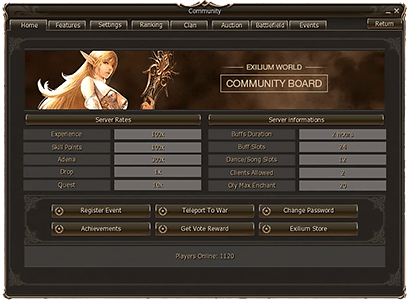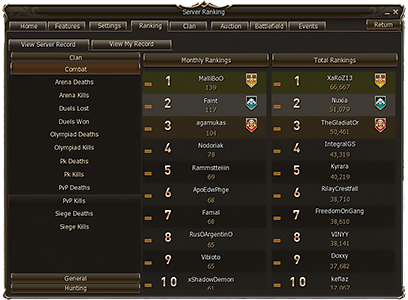 Automatic Events
There are five automatic events on our server. They are: Battles, War, Deathmatch, Survivor and Lucky Chests. Each has a unique and fun way to to participate. Events happen all day long and rewards are given to the winners. In addition, weekly rewards are also given to the best player of each event! To know more, speak to NPC Hector in the game, or open the item called "Hector's Magic Book" in your inventory. Also, check out the "Events" tab on the Community Board.
Achievements
With the intention of providing a broader and more fun gameplay, we created this system, which allows the player to complete missions of various types and levels, naturally, as he evolves in the game. For each complete mission rewards are given, such as Fame and Event - Medals. To learn more open the item called "My Achievements" in your inventory.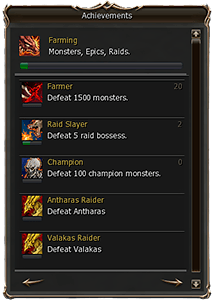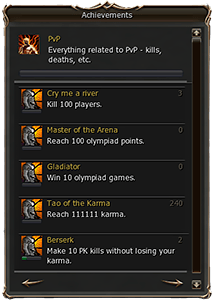 Scroll of War
This system was created with the intention of providing an intense and endless PvP! "Scroll of War" is an item that is in your inventory, when using it you are teleported directly to to battlefield. The battlefields are various and change from time to time. Players who participate in PvP within them receive PvP, the more Fame is received! This Fame can be used to get rare and unique items through the NPC Hector as well as the game's standard features.
Olympiads Anti-Feed
Based on player complaints, we have developed this system, which is intended to prevent corruption by players in the Olympiads, so it may be fair competition. This system basically consists of hiding information and accessories from your character to whom you watch and to your opponent, being shown only the name of your class, armor and weapon. The Chat players are also blocked. In other words, no one know who you're fighting with. In addition, the fights are grouped according to the points of the players, so that a very high scoring player does not compete with a very low scoring.